Why I use vegetable tanned leather.
Overall, vegetable tanned leather is a more sustainable and environmentally friendly option compared to chromium tanned leather. It is produced using natural and renewable resources, does not rely on harmful chemicals, and is biodegradable. While it may not be as widely available as chromium tanned leather, it is worth seeking out and supporting as a more responsible and ethical choice.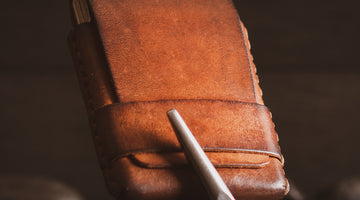 What is a leather "Patina"?
Leather patina is a term used to describe the natural ageing process that occurs on the surface of leather over time. This process is characterised by changes in the colour, texture, and overall appearance of the leather, and it is often considered to be a desirable feature in high-quality leather products. In this article, we'll take a closer look at the process of leather patina and why it is so coveted by leather enthusiasts.