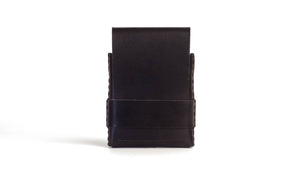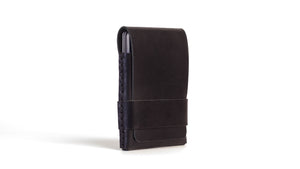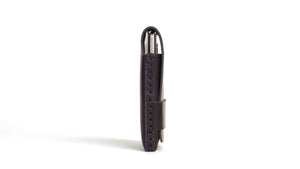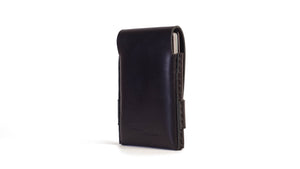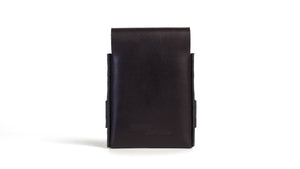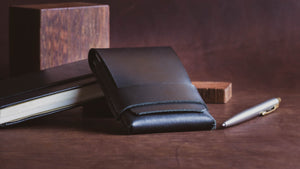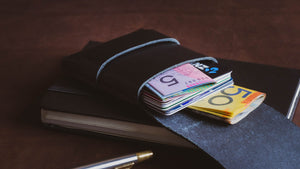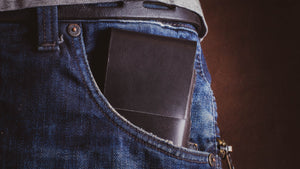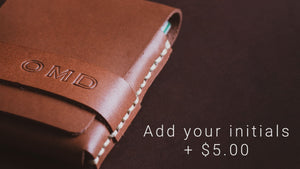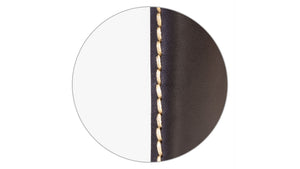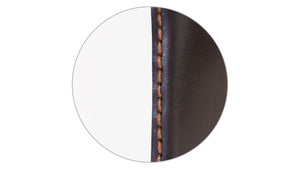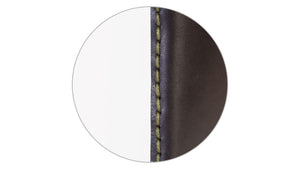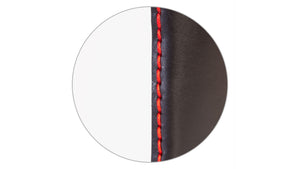 The wallet for people that hate wallets!
Is your wallet weighing you down, making your pocket bulge or putting your back out when you sit on it? Do you hate your existing wallet?
You can beat the pocket bulge and simplify your life with an ultra small and ultra stylish Minimum:Wallet.  Designed it fit all the essentials but so light in the pocket you will forget you are carrying it.

The Minimum:Wallet is designed just for you (Actually, it was designed just for me but thousands of others have told me they love it too). This has been my benchmark slim wallet since the inception of The Office of Minor Details back in 2007 and is the same wallet I have used every day since.  It is the perfect minimalist wallet for those that value simplicity, functionality and durability above all else.
Minimum leather.  Minimum stitching. Minimum fuss.
All leather construction - made from 1.2mm vegetable cowhide with no flimsy lining and hand stitched with 1mm waxed thread for amazing durability 
No pockets, sleeves or excess material - just plain simple quality for those looking for a less complicated life.
Up to 10 cards - Use your cards as a divider. The ones you use most at the front and the back of the stack for easy access.
Not just a card holder - stash a few big notes in back and your small notes up front.
Unique folded design - your cards and cash slips in and out easily without force, reducing stress on the stitching for excellent durability.
Handmade to order just for you - Each wallet is hand stitched in Wellington, New Zealand, by the hand of the designer.
The first Minimum:Wallet ever made - showing the beautiful patina of use.
Specifications
1.2mm vegetable tanned leather

65mm x 95mm x 14mm (2.6" x 3.7" x 1/2")

Fits up to 10 standard Bank Cards

Takes all currencies (folded notes)
Don't take our word for it!
Super satisfied! speedy shipping and amazing product. The best wallet purchase I've ever had. Only had it a few days and already starting to break in very nicely. I would highly suggest this wallet to any and everyone! thanks so much for making such a well-crafted, simple wallet!
Calvin S.
We bought one of these from you 5 years ago and desperately need to replace it! My husband LOVES it.
Vick T.
My husband was so happy with this. Its very streamlined, not bulky and will probably last forever. It made a wonderful gift and I wouldn't hesitate to order again.
Caley W.
Two or three years ago I bought one of these wallets for my husband (boyfriend back than) and I swear he never stops telling me how much he loves it and how perfect it is - literally at least once a month when I'm nearby and he is taking something in or out of his wallet. The one I bought then is still in awesome shape, it's withstood various accidental washings and daily use its not even worn out or ragged a little! He turned to me last night and again said how he loved the design and asked me if I can find another exactly like it to put his business cards in. Thanks for a great quality product!
Corrine D.
My second purchase (first one got stolen). No wallet will ever come close to this one! It's absolutely beautiful, smooth and practical beyond reason!
Svend O.
My husband usually uses just a rubber band to keep his credit cards and cash together in his pocket. He's the ultimate minimalist. I gave him your wallet as an early Christmas gift and he LOVES it! The details and stitching are so well crafted, and he especially likes the 3-D stitching. Thanks for a great product.
Brittany T.
Alongside my phone, the wallet has become one of the most indispensable things in my life. It's a really discreet and safe way to carry the cards I need plus a bit of cash. I love how it sits almost weightless in my pocket and how beautifully the leather has worn in.
Gilbert W.
More than just a card holder
The Minimum:Wallet is a small wallet that can carry a load. Perfect for your everyday carry.
MADE TO WEAR IN, NOT WEAR OUT
Constructed using 1.2mm genuine vegetable tanned leather. The Minimum:Wallet will give you years of dependable use while gaining a beautiful patina over time like the well loved one pictured here.
STREAMLINED
A single leather strap to close this wallet means your valuables stay safe while ensuring the Minimum:Wallet slides easily in and out of your pocket.
SMALL, BUT NOT TOO SMALL
This may be a minimalist wallet for those who like to travel light, but the Minimum:Wallet packs enough room to take as little as 1 or as many as 10 bank cards and some folded cash. You won't have to sacrifice the essentials to enjoy the benefits of a simpler life.
UNIQUE ROLLED EDGE DESIGN
Like all of my products this slim leather wallet features a rolled and stitched edge. This is not a traditional technique. The process forms an internal pocket which is shaped to accept your cards so you won't have to stuff them in, at the same time delivering the smallest footprint and minimum bulk.
HAND STITCHED FOR DURABILITY
Stitching is usually the weakest part of a leather wallet. That's why every Minimum:Wallet is hand stitched using a double saddle stitch and 1mm waxed polyester braided thread. This produces a durable seam that will stand the test of time.
FOLDED FOR STRENGTH
Folds replace seams where possible adding strength and durability where it is needed most. Ensuring your wallet will serve you well for many years.